Regular price
Sale price
$79.00 USD
Unit price
per
Sale
Sold out
Share
View full details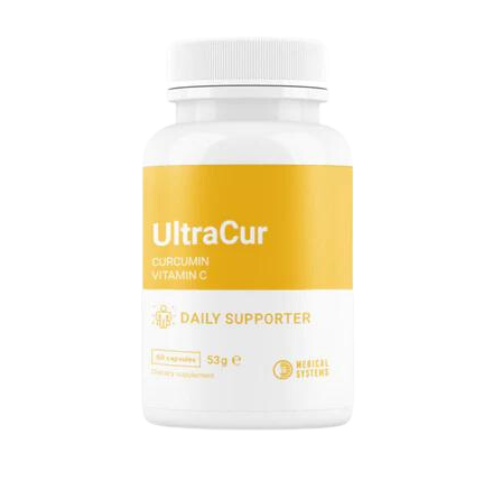 Promote a Healthier, More Radiant Life with UltraCur+Pro
UltraCur+Pro is a meticulously crafted daily support supplement designed to boost your health and vitality. Infused with the potent benefits of curcumin and vitamin C, this robust formula brings together antioxidant properties and immune system support in one convenient supplement.
Curcumin, a bioactive compound derived from turmeric, is lauded for its numerous health benefits, while vitamin C, a robust antioxidant, is globally recognized for enhancing immune functionality. Together, these compounds create an unparalleled daily supplement, fortifying overall wellness, and helping reduce inflammation.
Each bottle of UltraCur+Pro contains 60 capsules, simplifying its integration into your daily routine. This versatile supplement is suitable for a wide demographic seeking to bolster their immune system and maintain overall health. Experience the benefits of UltraCur+Pro and provide your body with the daily support it needs.
Product Details:
Main Ingredients: Curcumin, Vitamin C
Daily Support Formula
Bottle Count: 60 Capsules
Powerful Antioxidant Properties
Promotes Overall Wellness
Key Features:
Immune System Support: Enhances immune functionality, fostering a healthier, more vibrant life.
Potent Antioxidants: Comprised of curcumin and vitamin C, well-known for their antioxidant properties.
Comprehensive Health Benefits: Blends the health benefits of curcumin and vitamin C in a convenient, daily supplement.
Easy-to-Take: Designed for easy integration into daily routines.
Broad Suitability: Appropriate for a wide range of individuals interested in anti-inflammatory benefits and overall wellness.
Main Indications:
Ideal for individuals looking to bolster their immune system.
Perfect for those seeking a daily supplement to maintain overall health.
Suited for people intrigued by the health benefits of curcumin and vitamin C.
| | |
| --- | --- |
| Dimensions | 1 x 1 x 1  |
|  Weight  | 0.5 lbs  |
Medical Disclaimer:
The statements on this website have not been evaluated by the FDA. All information found on this website is for educational purposes only and is not medical advice, nor is it intended to diagnose, treat, prevent or cure any disease or symptom. Always consult your physician before adding a new wellness device or supplement into your daily routine. Please note: we are not able to provide individual recommendations.