Regular price
Sale price
$79.00 USD
Unit price
per
Sale
Sold out
Share
View full details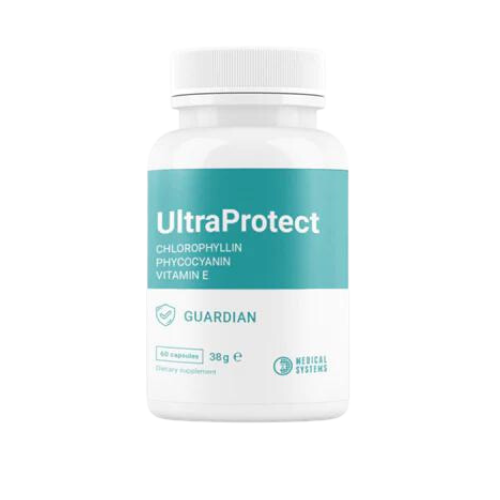 Harness the Power of Nature with UltraProtect
UltraProtect is a dynamic food supplement harnessed from nature's bountiful plant extracts, featuring the beneficial plant pigments chlorophyll and phycocyanin. These potent compounds have been the focus of many scientific studies, lauding their benefits in supporting overall health and wellness.
The innovative and exclusive active ingredient complex in UltraProtect is the result of collaborative efforts by physicians and scientists, setting this supplement apart from the rest in the market. UltraProtect can be synergistically used with red, blue, and yellow laser therapy through laser activation, enhancing its benefits manifold.
Even without light utilization, UltraProtect stands as a groundbreaking and potent supplement, ideal for those seeking to boost their overall health. Packaged in a 60-count bottle, it's recommended to intake 1 capsule up to 2 times a day. Embark on your journey to improved health with UltraProtect, leveraging the power of nature's most beneficial plant pigments.
Product Details:
Main Ingredients: Chlorophyll, Phycocyanin
Derived from Natural Plant Extracts
Available in a 60-Count Bottle
Innovative and Unique Active Ingredient Complex
Key Features:
Holistic Health Boost: Promotes overall health and wellness.
Natural Formulation: Crafted from beneficial phytochemicals found in nature.
Backed by Science: Provides scientifically substantiated health benefits.
Laser Therapy Compatible: Can be synergistically used with laser therapy for enhanced benefits.
Easy Intake: Simple-to-consume capsules for convenient daily intake.
Main Indications:
Suitable for individuals aiming to enhance their overall health.
Ideal for those seeking a unique and innovative health supplement.
Perfect for people interested in boosting supplement efficacy via laser therapy.
| | |
| --- | --- |
| Dimensions | 1 x 1 x 1  |
|  Weight | 0.5 lbs  |
Medical Disclaimer:
The statements on this website have not been evaluated by the FDA. All information found on this website is for educational purposes only and is not medical advice, nor is it intended to diagnose, treat, prevent or cure any disease or symptom. Always consult your physician before adding a new wellness device or supplement into your daily routine. Please note: we are not able to provide individual recommendations.